Mobile Responsive Web Design in Belfast – ensure you look good on all devices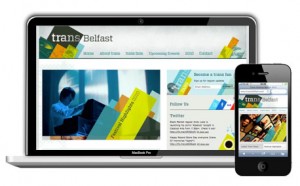 It is estimated that there will be over a billion users regularly accessing the web using a mobile device by 2013. Many of our clients have been taking advantage of this opportunity since 2009 when we first started building mobile compatible websites.
An early example of a mobile site designed by Eyesparks was for the Trans Belfast 2010 Festival. Back then we literally built two versions of the site in our Belfast studio – one for desktop browsing and one for use on a mobile phone. The mobile website was popular with festival goers who would leave comments while attending events (something that was quite new back then).
Since then mobile development has come on somewhat and we no longer need to create two separate websites. Today we build mobile responsiveness into every site. We add a clever piece of code that detects the screen size of the device accessing the website. The website will then rearrange its layout to be optimized for that viewing experience. The adjustment happens automatically when the site detects the relevant screen size. The end result is a more effective user experience on mobile devices.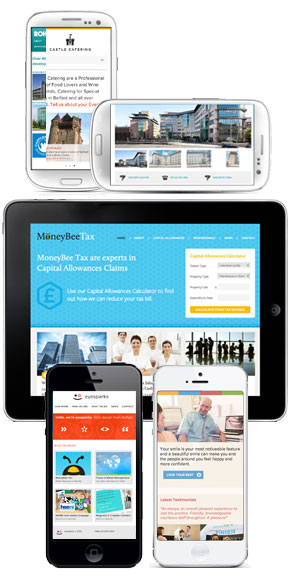 Mobile Responsive websites designed in our Belfast studio include;
and of course eyesparks.com.
Reasons why you should talk to us today about designing your new Mobile Responsive website;
Competitive Advantage – This technology is still in its infancy. Many of your competitors will not have used it yet and are therefore delivering a poor experience for their online customers.
Quick to Implement – as we build your new website we add this technology as we go. We design it right into the templates that define the rest of your website so it can be done with the minimum amount of extra coding time.
Cost Effective – Mobile Responsiveness works across all platforms. We don't need to do a different version for Android or iPhone so it is a very efficient way of delivering the best experience on all modern mobile devices.
Improve SEO – because there is only one website all back links made using all devices add to your impact with the search engines.
Call us now on 028 90446980 or complete our contact form  to discuss your website project.