iPhone website for Trans Festival Belfast 2010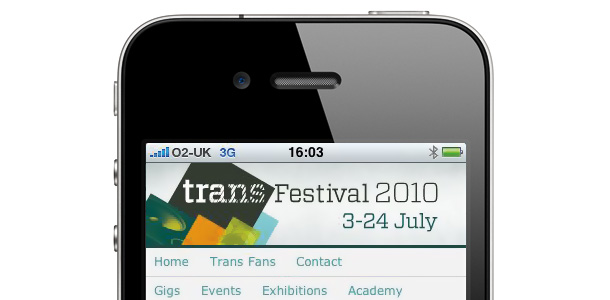 Now in its fifth year, Trans is an annual, non-commercial arts festival held in Belfast, Northern Ireland. Organised by the Belfast Waterfront, Trans is a three week programme of gigs, courses, exhibitions, seminars and discussions.
Having recently launched the new Trans Festival 2010 website, eyesparks have also developed an iPhone ready website to coincide with the launch of the new iPhone 4. iPhone ready websites are designed to deliver content much faster to mobile users, who are a growing percentage of your visitors online. iPhone ready websites typically have a pre-zoomed, readable version of your content designed for small mobile screens in a similar manner an app.
The Trans Festival iPhone website integrates directly with our preferred content management system, WordPress, so when an update is made to the desktop website, it is also live on the mobile version. This is an important feature for the Trans festival because it allows users to stay up to date, comment and leave a review, live at any of the Festival Venues from their iPhone or Blackberry.