Equality Commission launch interactive website designed by Eyesparks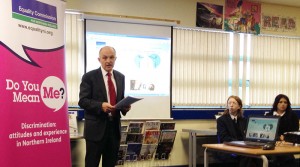 We were delighted to attend the official launch of the Do You Mean Me? website at Malone College in South Belfast today. Michael Wardlow, Chief Commissioner for the Equality Commission for Northern Ireland introduced the website to some of the young people from the school.
The highly interactive website encourages young people of examine issues of equality and discrimination through the findings of the Commission's recent Equality Awareness Survey. Tony Woods of Eyesparks commented, "It was great to see so many young people interacting with the site after months of development. To know our work might make a difference in the classroom is most satisfying."
To view the live site click here: Do You Mean Me?