CIM Marketing Excellence Awards 2012 Launched at the MAC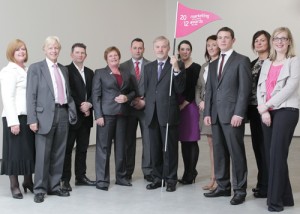 To coincide with the Irish Open in Royal Portrush, there was a golfing theme at the launch of this year's Chartered Institute of Marketing Excellence Awards. Jim Fitzpatrick of BBC Northern Ireland presented the launch event at the Belfast MAC and introduced the speakers Claire McCrea, Marketing Manager of Munster Sims Engineering (Whale) and John Edmond, Chair of CIM Ireland.
Claire McCrea gave a fascinating insight into Munster Sims' winning approach to entering the CIM Marketing Excellence Awards 2011 and the benefits the successful entry brought to their business.
John Edmond gave the gathered sponsors, partners and press a thorough overview of this year's categories and a few hints as to what the judging panel might be looking for in a winning entry this year.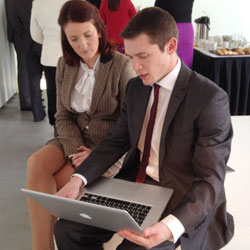 The launch was also an opportunity to reveal the new look 2012 website as designed by Eyesparks. This year our theme is Marketing Excellence = Business Benefits. Peter Hughes of Eyesparks said, "We designed this year's website to utilise Parallax Scrolling  which adds an element of animation throughout the website which is presented as one continuous page. Written content, backgrounds and info graphics scroll at slightly different speeds lending a greater sense of depth to the pages and ultimately a very satisfying user experience." View the CIM Marketing Excellence Awards 2012 website here.
The event was rounded off with a guided tour of the very impressive facilities at the new Belfast MAC. We know we all be equally impressed with the awards night itself which will be held in Titanic Belfast on 7th November 2012.