Snowball Mania – the inside story on this year's HTML5 Christmas Game
Every year at Christmas time we showcase our capability by creating our own unique festive greeting.
This year we put our elf thinking caps on and came up with a great idea – the chance to pelt the Eyesparks team with snowballs! We call it Snowball Mania.
What is Snowball Mania?
Pretty simple really, the Eyesparks team challenge you to a series of snowball fights. As well as the satisfaction of pummelling Tony, Roisin, Peter, Eamon and Asa with snowballs, players who compete and survive multiple battles can make it on to our high score leaderboard.

---
Where's the Fun?
While throwing snowballs is an inherently enjoyable thing to do, after a while the fun would start to wear a bit thin. So as the player progresses, we add elements of complexity and challenge to the game that increases difficulty but provides more opportunities to score points:
Some enemies appear less often but are worth more points – hit "Fat Santa" Tony to maximise your score.
Some enemies only peep over the wall – hit them to gain double points.
You can only have ten snowballs in your armoury but you can be reloaded at anytime during gameplay (forgetting to reload is a common reason for being hit).
Initially you only face one enemy at a time but as the rounds progress more Eyesparks team members spawn together, increasing the difficulty and making it more likely you will be hit.
Multiple successful enemy hits builds energy in your combo bar – when this is full you can click to performs a special multi-throw move, especially useful when facing 3 or more enemies together.
Hum along to our eclectic play list of "Christmas Metal" as the game progresses.
View your performance stats at the end of each game to assess who was your most accurate enemy and how you can improve your score next time.
Technology & Data Collection
As with all our interactive games, it works equally well on desktop and mobile browsers – turn your phone or tablet horizontally to play on those devices. The game has been initially designed to work on all the latest popular smart phones however this is a continuous work in progress for us and we will optimise for older and more rare handsets as we get feedback from users.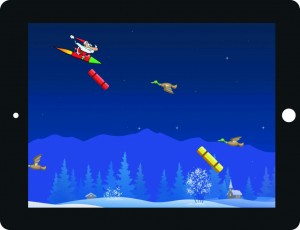 We have developed this game for two reasons; to entertain you at Christmas time and to showcase the capabilities we employ for our clients. Last year we designed Santa's Christmas Cracker Chase, players controlled Santa to collect Christmas Crackers on his flying fire cracker (see what we did there?). He had to avoid deadly ducks and complete a series of bad jokes thus illustrating how we can combine engaging gameplay with interactive questions.
With Snowball Mania we have focused on our ability to gather in-game data. We collect player name, score, throw accuracy, enemies successfully hit and much more during gameplay, which helps players improved their progress in subsequent attempts. This is the same technology we employ for our education clients to help them measure and improve student performance.
Our intention is to commercialise Snowball Mania and Santa's Christmas Cracker Chase for the 2017 holiday season. So check back in with us later next year and you will be able to publish your own branded, customised version of either game. In the meantime, enjoy!