Natural Ireland updates result in significant increase in sales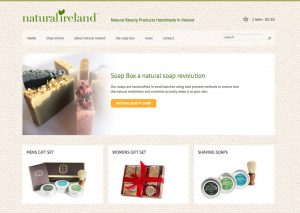 We love Natural Ireland. They are a small Irish company dedicated to producing skin care products made from only Natural ingredients. This year they won a prestigious contract to supply gift sets for the escorts at the Rose of Tralee. We worked with their team and our friends at GBM Design and Print to create a range of packaging that meets the high expectations of the Rose of Tralee organisers.
Now that we had given the products a make-over, it was time for the website to get a similar face lift. By simplifying the product range and user experience we have helped Natural Ireland increase sales by over 300%. "We were delighted with the changes Eyesparks made and we are very excited at the sale possibilities going forward." said Majella McAuley, MD of Natural Ireland.
View their range of Natural Handmade Beauty Products.